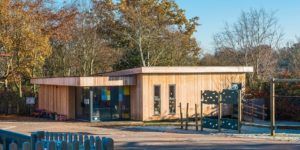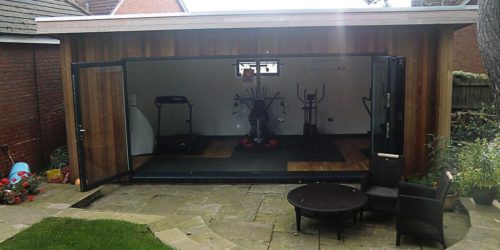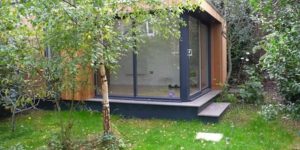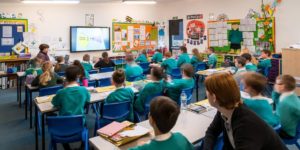 Security Gatehouse Building, Alconbury
BACKGROUND
Urban & Civic, a property development company specialising in large scale urban regeneration projects' management team, are responsible for projects like Stratford City (London 2012 Olympic Site), White City (now Westfield London) and Paddington Basin projects.
They wanted one of our unique modular buildings for their gatehouse in Alconbury Weald set within a mixed-use development scheme. With several other large projects in the pipeline, the 1400 acre site (a former RAF base at Alconbury near Huntingdon) was being developed for work, living, learning and leisure, so a positive visual impact when approaching their first commercial building was a main priority.
Vertis was hired for its flexible and bespoke design and build approach to quality unique modular buildings. The gatehouse was going to be needed for security purposes and to greet visitors. It would be required to blend in with the existing branded gatehouses without obstructing the view of any of the other commercial buildings.
Our client preferred to rely on regular dialogue rather than a restrictive formal brief. At Vertis we always apply a working method that suits the individual client. They also loved the idea that this bespoke modular building can, if required be deconstructed or in some cases lifted as one unit and transported to another part of the site.
Key features
All our buildings use high quality sustainable materials as standard, which can then be built upon and in this case creating an impressive entrance. In this instance we colour matched the new gatehouse to blend in with the other onsite gatehouses. Our clients were delighted with this level of detail.
Good visibility from the gatehouse was a vital requirement which aimed to support the security guards, so we installed large aspect glazing on all four sides of the building as a key design feature.
The inclusion of kitchen facilities and a toilet ensured the gatehouse could operate as a stand-alone, self-contained workspace. We also included a desk level trunking system to allow flexibility when locating services, and in particularly the barrier system which was installed at a later date. Also typical for all our commercial projects we install slip resistant vinyl flooring internally – vitally important for the guards entering and leaving the buildings all day and during all weathers.
To reduced onsite construction time we delivered the building as a fully demountable, crane lift-able structure. This enabled minimal onsite disruption and the gatehouse was ready to be connected to local services on delivery.
For all of our unique modular buildings, we believe it's important that the design should complement the building's local surroundings, so we clad the building with Scottish Larch which matched the previously installed gatehouses.
Due to a planned event to open the site timing was a key factor for this client. We worked closely with them to ensure that this custom built unique modular building was up and working within their deadlines.
Specifications
Large aspect glazing on all four sides of the building
Fully pre-fabricated off-site then delivered and dropped into position at the location
Scottish Larch cladding
CCTV
Self-contained WC and kitchen
Slip resistant vinyl flooring
Steel frame structure
Durable black colour coating