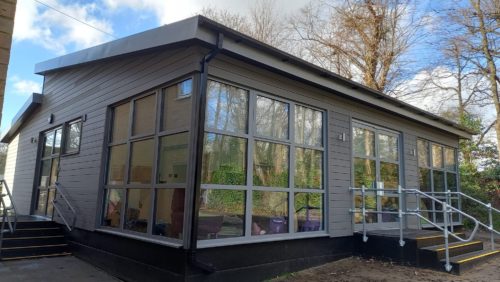 Bespoke: Dr Triplett's Library
Dr Tripplett's CE Primary School in Hayes, Middlesex, needed a new library building to serve its students. The design and build contract went out to competitive tender, with Vertis and others pitching their approaches.
Vertis offered a distinctive, attractive design featuring high level clerestory windows and dual mono-pitched roofing. Thanks to this and competitive pricing (Vertis bid more than £50k less than its nearest competitor) they won the library contract.
Watch the Dr Triplett's library come to life:
"We are delighted with our Library building from Vertis. From the beginning they offered a distinctive vision for an appealing, accessible price. They were sensitive to all our needs and went above and beyond in delivering the finished product. The builders persevered through difficult conditions and were a pleasure to work with. Now we have a bright, beautiful, well-equipped new building that will serve our school for years to come. I would highly recommend working with Vertis."

Claire Faulkner, Office Manager
Then Vertis worked with the school to understand all their specific practical needs and the design details to suit them. They liaised with and project managed the school's retained contractors to collaborate on the security, fire alarm, data networking and access controls (key fobs etc) that needed to be integrated with the new building.

The builders faced some challenges on the site – it was relatively inaccessible due to being landlocked. Moving lorry-mounted cranes on site was difficult and a lot of materials needed to be carried on by hand. Nonetheless the builders persevered and the school constantly praised them on how professional, courteous and hardworking they were. They endured through snow and ice, whatever the weather, to keep the project punctual. Vertis delivered a finished building on time and on budget, all in the space of four months.

A new space for learning
Now complete, the building comprises a large library space, with small kitchen facility within, a central lobby, 3 meeting / intervention rooms, an accessible WC and an extensive set of access steps and wheelchair-accessible ramps. The building form, with dual mono-pitched roofs, allows the high level clerestory-type windows to illuminate the central lobby and with extensive glazing to all other rooms, to maximise light in what is otherwise a tight site with the large main school building on one side and a dense, mature woodland on the other side.

The building was clad in a largely-maintenance free, stone-grey colour composite cladding with complimentary Dusty Grey colour windows and doors. Internally, the school's rich purple branding colour was utilised for flooring to tie the detached Library building in with the rest of the school estate.