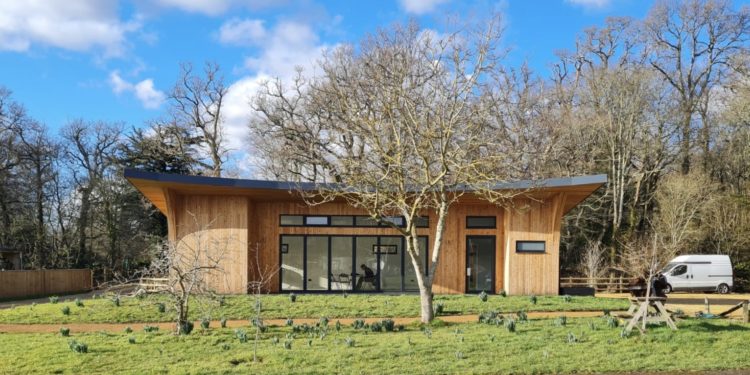 Bespoke: A centre for climate change education
The Countryside Education Trust is a charity on a mission to connect people with the countryside. They're one of the few places in the country offering climate change education alongside environmental and sustainable farming education. Young people and adults can benefit from their farm, garden and residential centre all equipped to serve connection with the outdoors and learning about the natural world.

Some years ago, CET saw an opportunity to develop that has now become an exciting educational resource. CEO Jane Cooper explains below.

"We felt a real lack of education around climate change. A lot of adults, teachers as well as children, don't know anything about the basics of what climate change actually is. We thought that having a better teaching space that could also act as an exhibition area for the wider public would be thrilling both locally and to us as teachers. With support from our marvelous funder Ted Fort we set about making it a reality."

"Vertis was a patient, flexible and creative company. The builders were exemplary with a great pride in their work."
Jane Cooper, Countryside Education Trust
How Vertis made our dream a reality

"We made contact with Vertis and found them very supportive and encouraging. One of the things that's really impressive was that they were very open. Our funder wanted to put his own stamp on the building, we wanted to try and make some quite radical changes to the shape and roof outline of their standard build, and Vertis were just super accommodating about that.
"We spoke to eight or nine different potential companies and while some were very limited in what they were willing to adjust to, that wasn't the case with Vertis. Having a company that was sensitive to our needs and had a very can-do attitude about making the vision happen was absolutely brilliant.

"The building process was fast and the builders were excellent. We developed a really good personal working relationship with them and they were very keen to get everything right. They took a lot of care and attention particularly about the wood. There was a couple of features that were quite hard to build because they're not standard and the builders were very keen to make sure that it looked as good as it could."
"The building is now being used and enjoyed extensively. It has a lot of wow factor. It's very adaptable, light and easy to heat. We're thrilled, it's a transforming building for us. It's elevated our visibility and desirability to a lot of audiences in terms of a place that they can use to talk about climate change and the environment. I would totally recommend working with Vertis. They were patient, flexible, fast and delivered an excellent building for us."
Find out more about CET and its work here. If you're looking for a new building for your school or educational context, you can get £5k off your next building if you choose to build with Vertis. Find out more here.