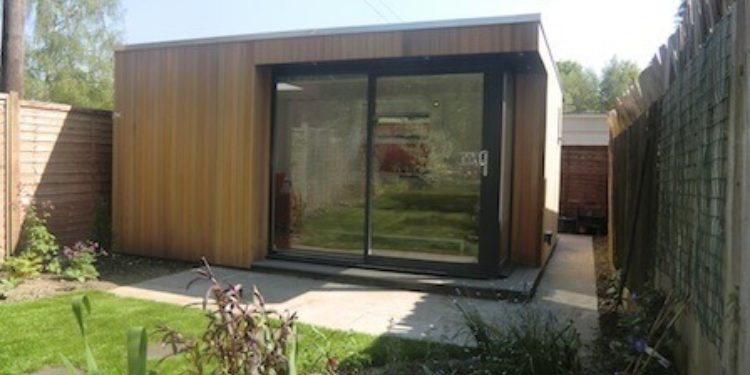 After completion of her new Studio, which our client has affectionately named her Pod, we returned to see the stunning, modern-yet-retro interior of her new workplace / occasional guest room.
The combination of modern furniture and retro orange and lime-green colours work really well for it's intended multi-purpose use. The Pod is used as a day-to-day office and meeting room, courtesy of large desk space, lit from above by opening roof window for plenty of natural light with desk-level sockets for power, data & telecoms, large comfy sofa, which converts to a king-size bed at night, built-in kitchen and storage area and the lovely toilet facility …
The toilet is finished to our usual high-standard, fitted out with close-coupled WC, square vent window, extractor fan, electric towel radiator, basin and vanity unit (see photo below), however, in order to optimise the available space, our client specified this space-saving sliding pocket door, which disappears inside the wall aperture when open.
Our experienced team installed her building in a newly-cleared muddy garden so we were keen to return once the garden landscaping had been completed – the photo below shows the Studio at the end of the garden as a stunning focal point.
The path to the right side not only allows the corner glazed feature to work well to allow in plenty of natural light, but also provides access to a practical garden storage area behind the Studio. A new garden shed completes the project and is hidden from view to keep all the utility side of the garden out of sight – though the Studio also features extra outside lighting on the rear wall to light the shed storage area up at night.