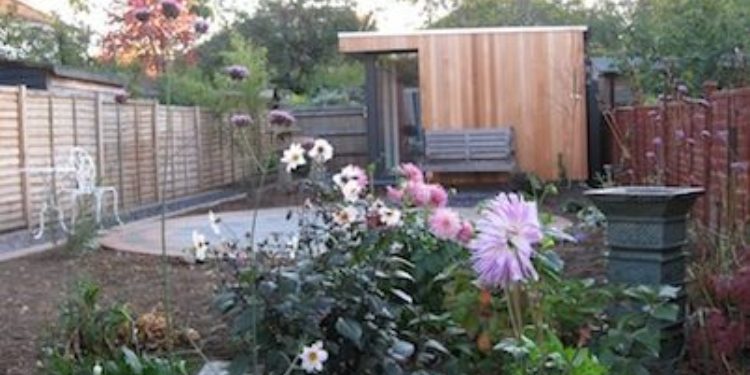 A true green studio in the eco sense of the word – our recent commission for an eco art studio in Oxford has been completed with our usual green specifications (high insulation, sustainable and recycled materials) with some additional eco embellishments.
TAILORED TO MATCH OUR ARTIST'S NEEDS
As a working eco art studio, our client required a simple solution for washing her brushes, hence we installed Rainwater HOG slimline vertical water butts, as space was restricted, and linked the butts (which were fitted with a rainwater filter) to a free-standing internal sink unit. With the addition of a motor-home pressure-switch and motor, as soon as the sink tap is released, fresh, filtered rainwater is pumped into the sink. A true eco-solution and a cost effective alternative to excavating a trench and laying a mains water supply.
Furthermore, at the back of the eco art studio, we constructed a simple, elegant lean-to storage area, complete with Cedar-clad ledge & brace gates and an external power socket, ready to use as a garage with charging-point for our client's electric pedal cycle!
Not one to be held back by the extent of projects in the garden (see photo above of newly landscaped garden), our client is now investigating the installation of solar-panels to be installed on the roof for a fully sustainable, self-contained carbon neutral workspace!
In the words of our client Jill … everybody that comes here is mighty impressed with the studio …
And that includes the local council planning officer too! A neighbour complained about the installation of the outdoor space so a planning officer duly visited and inspected the site and passed the installation as a Class E Permitted Development, compliant with the guidelines for a garden building under 2.5m high.
Has this eco art studio inspired you? Take a look at our other garden studios to see the full range of options available.