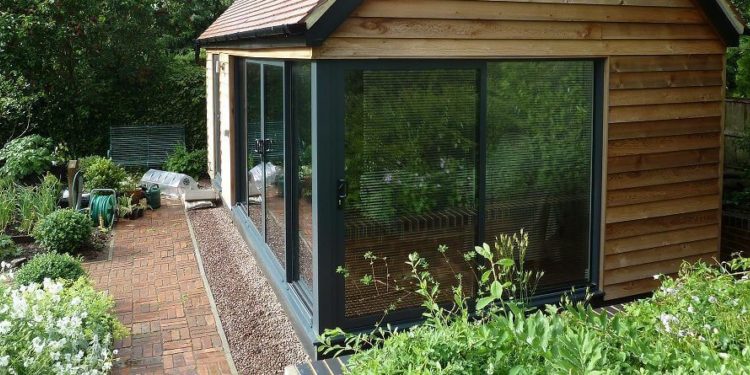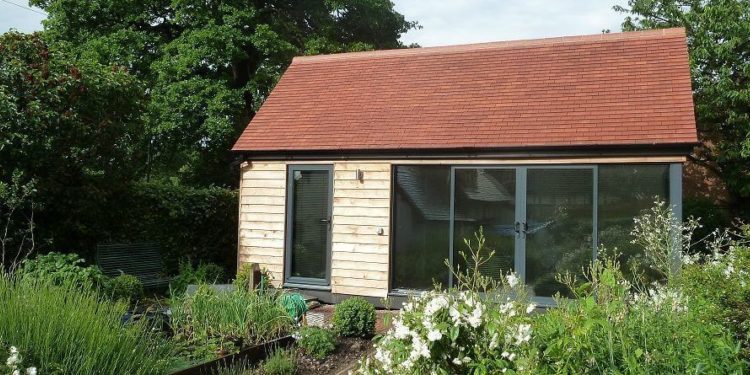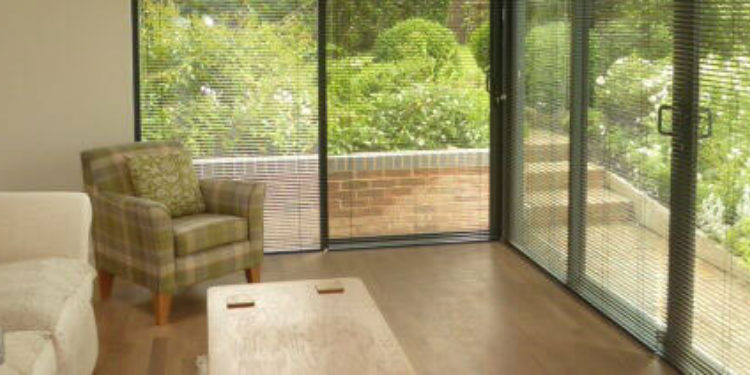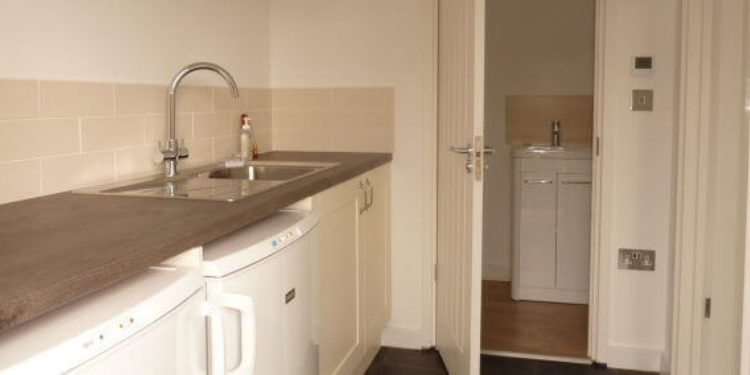 PURPOSE
Ron and Carol Ashman wanted a lodge in their garden for real everyday use, acting as an extra garden living room. This attractive lodge is situated within 10m of their house, with a utility room and WC facility. It can also be used as self-contained guest accommodation.
The building has a steep, tiled, pitched roof designed to allow extra storage space above their utility room, freeing up space in the client's cottage. The style of the lodge is in keeping with the house – a traditional design with weather-board cladding on the walls and a traditional clay tiled roof – it even has a contemporary interior. A particular challenge was fitting the handmade clay tiles which really add to the overall aesthetics of the building.
The 4m wide sliding patio doors to the front and 2.4m sliding glazed doors on the adjoining side create a glazed 'corner' to the garden living room with wonderful views across the landscape.
The lodge was installed in three weeks and the client is delighted with the end result:
"The extra living accommodation provided by our lodge building has added much needed space to our tiny cottage. It's something we had been thinking about for years and the final result has answered what we had always hoped for, and more. The design and detailing of the new building was critical since our cottage is a listed building, and a quality bespoke design was very important to us. We cannot fault Vertis. Their building team was very diligent and professional and Craig and his office-based team were always available when we needed to talk to them. We love our new building" – Carol Ashman.
FEATURES
Roof window above living room – to maximise light
4m sliding patio doors and 2.4m sliding doors – bringing the outdoors in
Steep pitched roof with open-vaulted ceiling for over 4m internal height
Underfloor heating – for year-round comfort
Utility room and WC– the addition of facilities to the garden living room frees up valuable space in the main house
SPECIFICATION
5m x 4m floor plan
Utility room & WC
Storage area above the utility room
To find out how a garden living room can offer you more space, why not take a look at our video case study. If you need more inspiration, take a look at garden room extensions.