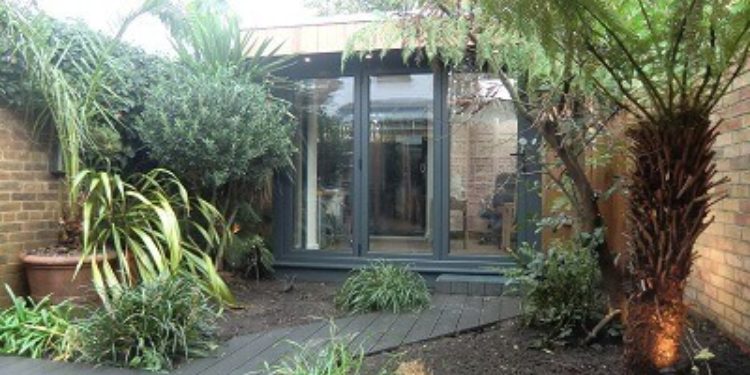 Latest Project - Garden Art Studio, Brixton, London
It's a good job size doesn't matter, especially for this latest project, a Garden Art Studio in Brixton required to house a growing collection of art. Though the small urban garden was short on space, it did provide the perfect solution for this increasingly busy artist. The couple didn't want to move, but work spilling out of the spare room was putting this art fanatic in the dog house!
They needed to find a company who could create a practical but contemporary outdoor art studio within tight boundaries lines, and provide a bespoke space to paint, sculpt and design. Ironically, the size and shape of this small urban garden helped to create this cosy, idyllic location, which could now also be used for garden parties and relaxation.
The small art studio was designed and installed to fit exactly at the end of the garden surrounded by essential non-slip sustainable decking, for working with messy art materials. That's one of the great things about Vertis bespoke designs – they can be customised to suit all shapes and sizes to meet an individual's requirements and aspirations, we can even deal with issues such as limited access to the garden.
No matter what shape, however small (or large) with the right design and technical know-how, amazing and unique outdoor spaces can be achieved even within the smallest garden location. This client then landscaped the area surrounding the studio nestling it beautifully. We completed the picture with an inspirational Sedum roof, its low maintenance and eco-friendly features perfectly complimenting the lush backdrop. They also requested a larger roof window to let in extra sunlight light and fill the space creating a perfect place for creativity to thrive.
SOME FURTHER BENEFITS TO CREATING AN OUTDOOR ART STUDIO:
Instant privacy – a separate entrance gives you control over how much or how little of your work is seen and when, it's a private discreet place to work in undisturbed.
Extra storage – If you're lucky enough to sell your art, then fantastic you got a dry, secure, safe place to store each piece or even showcase it to your clients – in a purpose built, bespoke stunning contemporary garden studio.
Room to spread out – Art can be messy – and you don't want your partner giving you grief over the muck you keep running through the house – a garden art studio is the ideal solution to keeping the main building clutter free!
So whether you're a hobbyist who does it for love or an entrepreneur determined to make a name in the art world, you need the right creative space to experiment and produce work. Then at the end of the day, if you've opted for a wash area or even a shower room, you just close up shop, shower and change and you are good to go. A short walk back home, as your partner greets you from the kitchen door with a glass wine and a smile.
Remember whatever shape or size your garden is even if it's tight on space you don't have to compromise on design! We have over 20 year's experience in helping clients work within their properties unique settings and helping them achieve dreams – these are just some of the reasons why you should use Vertis!
If you'd like to know more, and to see exactly what you can achieve in your garden then call us on 01582 805440 for more information or to get a free no obligation quote.