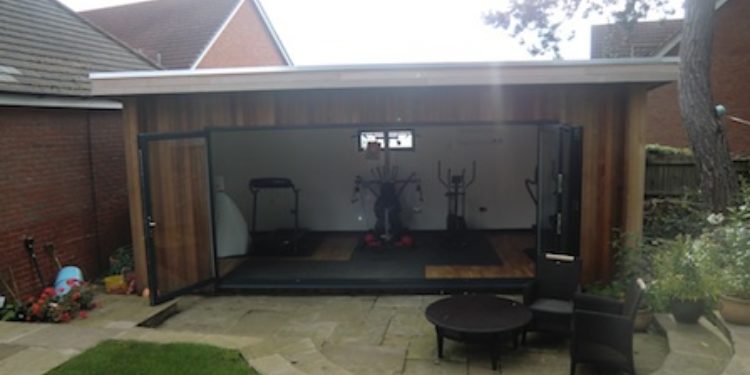 Luxury Home Gym With Folding Doors
This great home gym was completed during the cold winter months to provide a separate space to work out at home. The room was designed in conjunction with our client's personal trainer, in particular with 40cm taller internal height than normal. This was achieved by excavating a lower terrace in the garden to mitigate height restrictions under planning law and also to ensure that the tall structure did not impede upon our client or their neighbour's outlook.
A key requirement of a home gym is to have plenty of space to exercise in and this spacious garden building certainly has that. Our client is able to work all the core muscle groups with the four main gym machines now installed in this lovely home gym.
The Office design building included a set of large folding and sliding doors to open up the gym to the garden, as well as extra ventilation windows and a climate-control air conditioning unit. So if our client ever needs a quiet place to contemplate whilst working out, this home gym certainly fits the bill.
The result is a superb leisure space and garden room, already in daily use!
The usage as a garden home gym demonstrates the versatility of our garden room designs. To see what you can do have a look at our wide range of garden buildings to explore the possibilities.