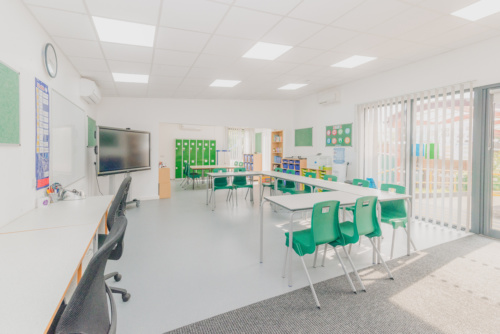 Growing SEN Classrooms at Weatherfield Academy
Weatherfield Academy needed new learning spaces to keep up with demand and support the particular needs of SEN students. Here's how Vertis helped transform the school's offering.
We spoke with Liam Meenan, Assistant Headteacher at Weatherfield Academy, to hear about the impact of the new Vertis buildings at the school.
Hi Liam, tell us a bit about Weatherfield Academy
"Our school is entirely made up of students with education, health and care (EHC) plans. Students with EHC plans are those who need more support than is available through mainstream education. Here, their primary need is cognition and learning.
"I started in 2014 and there were 122 pupils at school and now in 2023 we have 167 pupils. The school was initially built in the 70s for a hundred pupils. So you can imagine the constraints that we have had with growing cohorts and limited space."
What problem were you facing before working with Vertis?
"Our biggest need is space. We have a demand for special needs places in Central Bedfordshire. And we were at capacity with our classes and classrooms. Our head sought funding from The Connolly Foundation whose funding enabled us to work with Green Modular (which later became Vertis) on a new building.
Before we had the buildings we had a lack of space in school. And so we had young people that were waiting for places at our provision, and some wouldn't be attending their mainstream school because they couldn't access the special education they needed. So you have students waiting for a place, and lots of time spent on SEND tribunals for those students , so that's a cost in opportunity for young people and in time and work for us.

"The main priority for a new classroom is that it has the space available for the needs of the students that will be working in there. Secondly, it needs to be visually in keeping with the rest of the site. Thankfully the Vertis buildings are aesthetically pleasing and they work to make sure they complement the existing school site."
What was it like working with Vertis?
"It has been very simple working with Craig and his team. They communicate at every stage of the build (either by Whatsapp or email which is ideal), and when they come in for meetings, they keep the meeting short. So they get to the point and there's no wasting of anyone's time.
The builders Vertis use are very polite and thoughtful, I can only sing their praises really. Craig works with us and our site team to make sure they have the appropriate space and compound site and welfare areas for their staff. And then there's no disruption really, we don't see them, they will work away from us and if there is a fire drill then they know where to go and so all work very smoothly. Anything that Craig feels will be of a disruption is generally done in the holidays."
What's been the result for you?
"Everyone wants to be in these new classrooms. Our school covers a wide range of ages from seven-year-olds to 19-year-olds. The new buildings have allowed the students aged 16 to 19 to have their own area, giving them some independence and treating them more like young adults.
We do have pre-fab buildings on site as well as our existing classrooms and the new builds are much more spacious, more airy, warmer in the winter, and provide more natural light. They provide the soothing, non-threatening space our students need. And the bifold doors enable sort of being out in the environment as and when the weather allows, So we're very pleased with them."
What can you do with these new classrooms?
"At Weatherfield we focus on English and Maths in the morning in general. Then we look at vocational subjects in the afternoon. Those being horticulture, small animal care, forest school too. Adapting and problem solving. The classrooms really come into their own here because they easily open up to the outdoors, allowing you to explore both theory and practical elements easily. Working indoors but learning from the outdoors too. We have work experience groups doing work with the National Trust or and local community projects.

"Our school motto is to 'to become the best person you can be'. All of our children follow that motto, most of the time, to be the best person they can be in the classroom and outside of it. These new classrooms have enabled more of our local community to access our provision, so we're supporting more young people to be their best selves."
"The young people enjoy being at our school and that's showing through our attendance data which compares favorably, regionally, authority-wise, and nationally. And so, yeah, the proofs there in the pudding. The young people enjoy being here and using the facilities that are provided for them.
In our most recent Ofsted report our safeguarding and the welfare of the students was rated outstanding, which we're very proud of. As a school, we are very caring of our young people. So for them to have the best facilities that we can provide is very important to us. We were selective in choosing to work with Vertis and are very pleased with that choice."
A bird's-eye view
The coloured blocks on the map represent each of the five buildings we've constructed since 2019, overlaid on an Ordnance Survey plan of the school site. You can click on each building to find out more.
Overview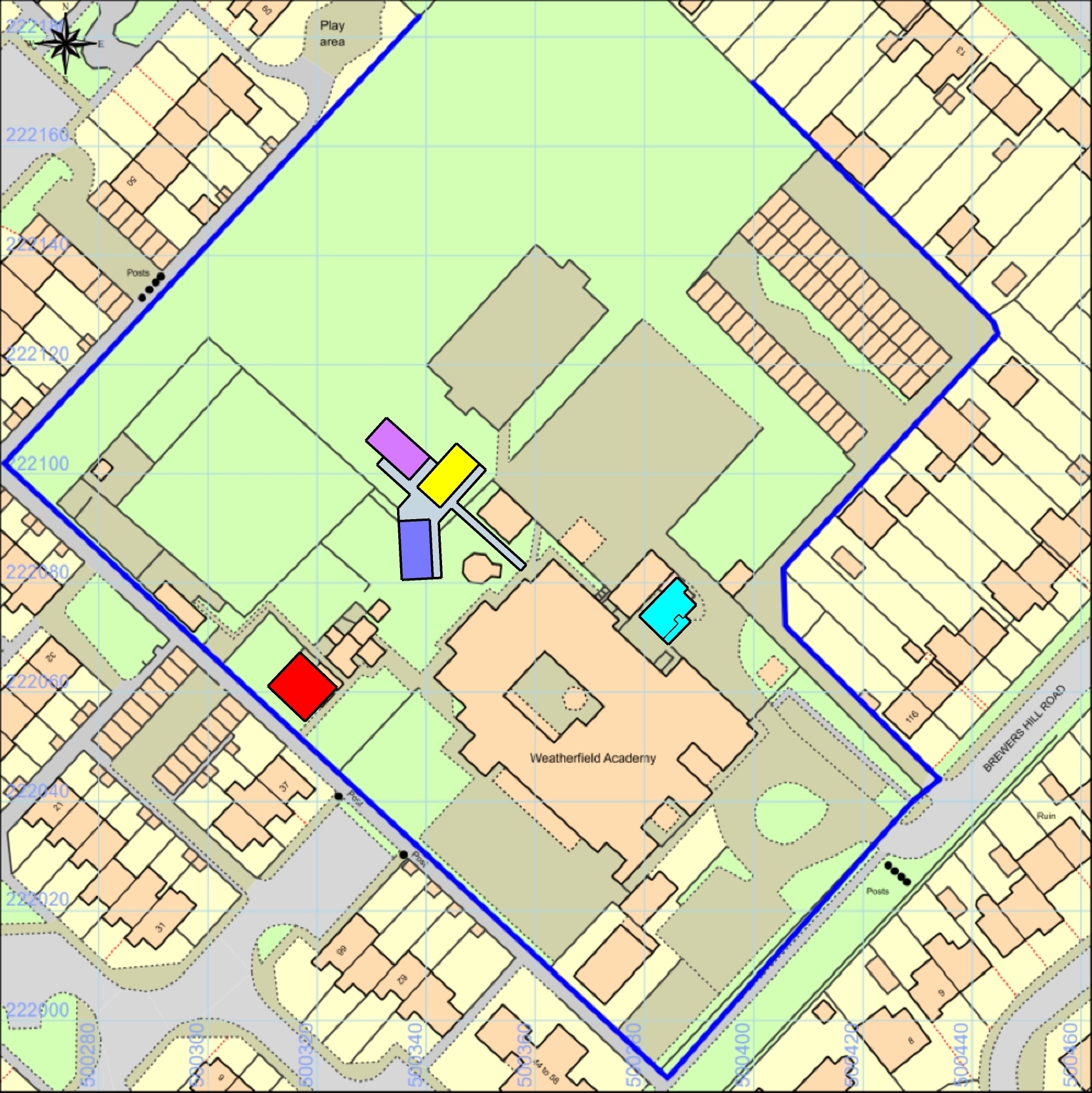 First 6th form classroom opened for use in summer 2019
Second 6th form classroom opened for use in spring 2020
Third 6th form classroom opened for use in Easter 2022
Admin offices and staff room, opened for use in September 2022
Latest new classroom, the fourth 6th form building which will start to be used from September 2023
See it for yourself: enjoy a 360 tour of the Weatherfield Academy site

Click on the '+' icons to find out more about what our buildings offer.
Outside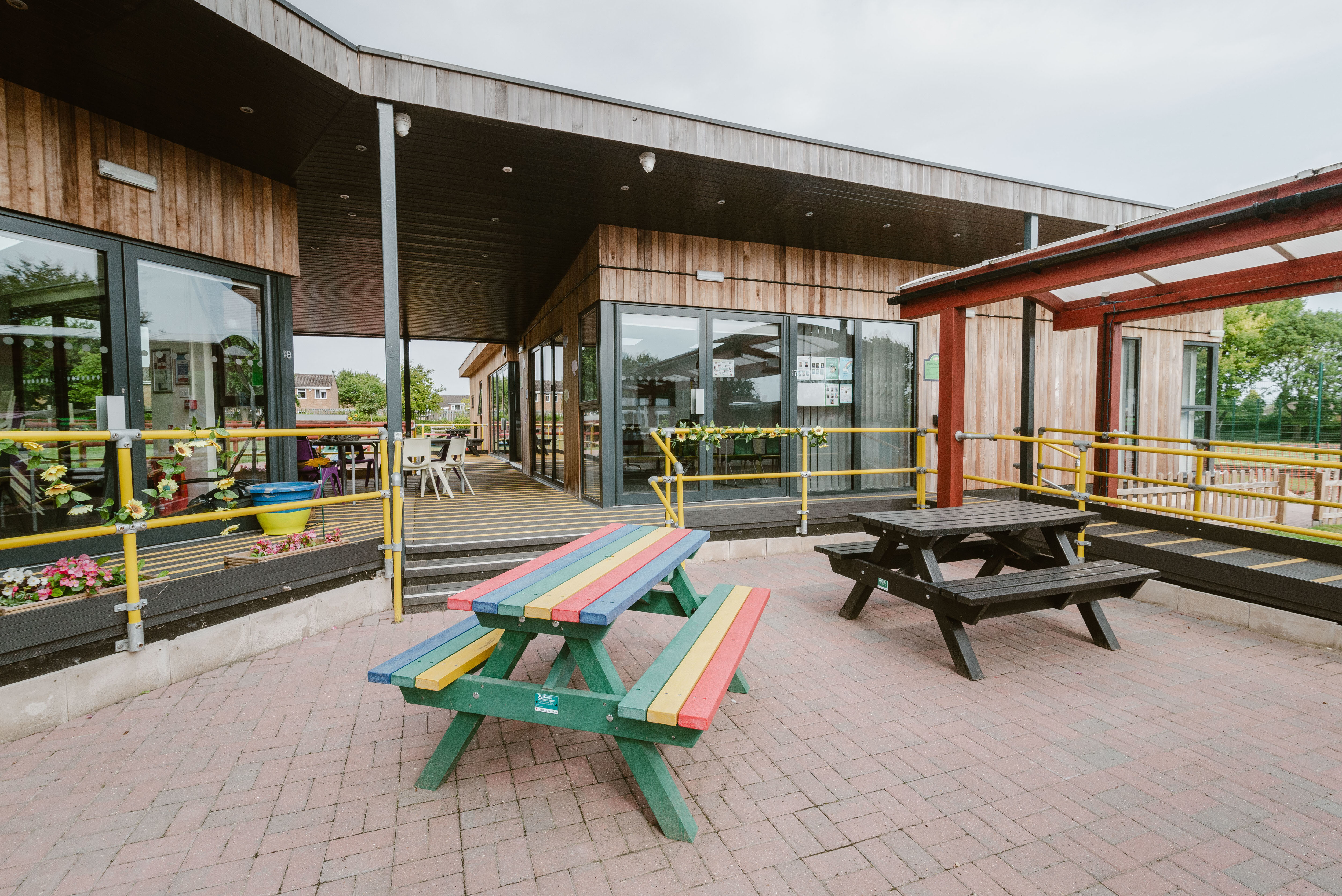 Western Red Cedar cladding
A beautiful natural finish with a maintenance-free life expectancy in excess of 50 years.
High-traffic commercial grade doors
with built-in safety features and wheelchair-accessible
Building access enabled by slip-resistant decked verandah with steps, ramps and safety handrails
– ideal for outside break-out/intervention space under the shelter of the roof canopy
Inside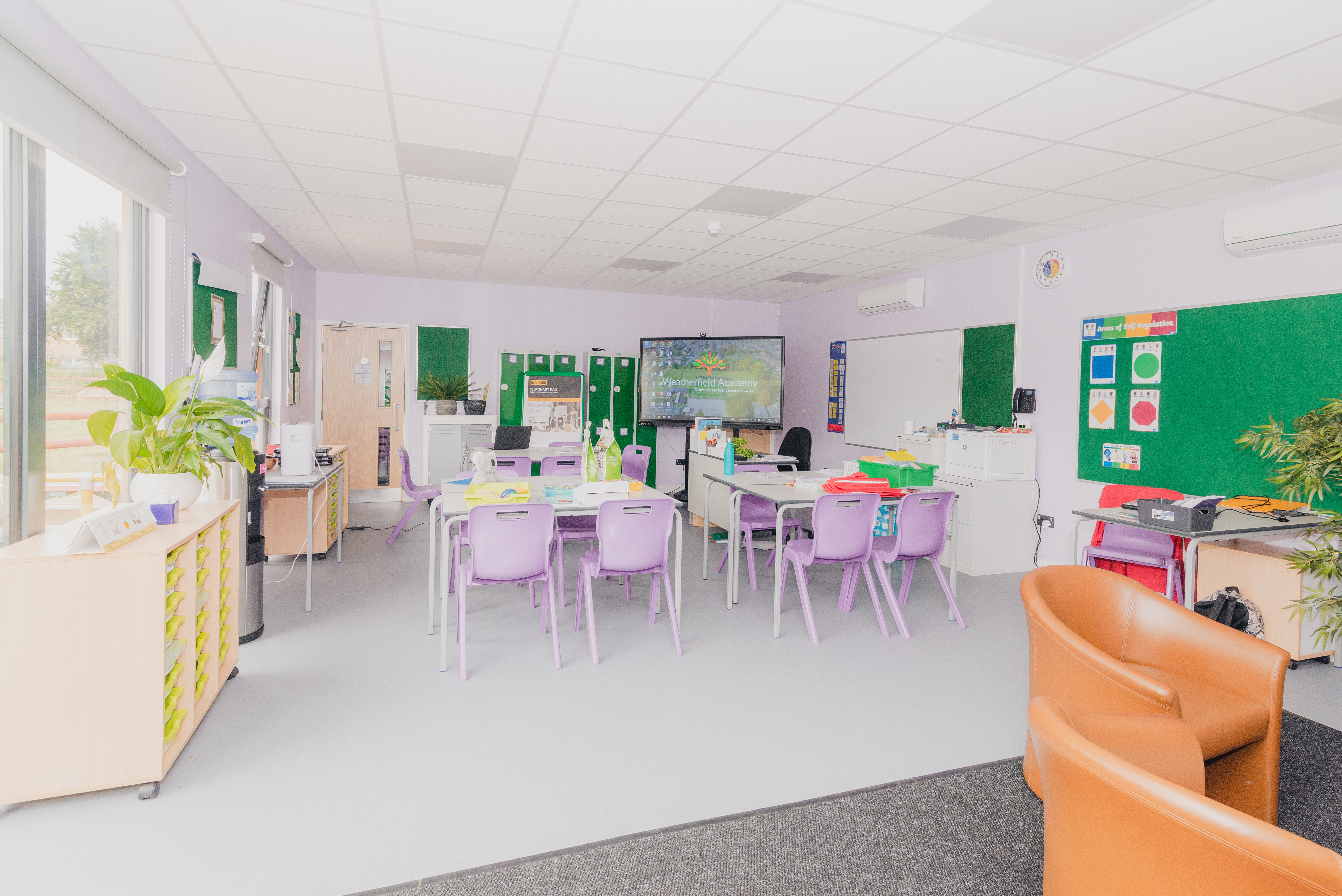 Acoustic modular grid ceiling system with daylight-colour-temperature LED lighting
Reduces sound reverberation and provides a ceiling void for managing vital building services, such as security & fire alarm systems and data cabling)
Durable impact resistant dry-lining to walls
With full plaster skim and choice of decoration
Commercial grade internal fire doors
With safety glazing
Space heating
Using air-conditioning for energy efficient heating and cooling
Full support for the installation of your Interactive White Board
We will manage full integration of your alarm, data and access control systems
Extensive window glazing
For views of your outside space and effective safeguarding
Hard-wearing practical flooring
For schools, typically comprising vinyl, carpet tiles and barrier mats
Sustainability is vitally important to us. All our standard builds have an Energy Performance Certificate score of A.
For every completed school building, we will donate a 500 square metre woodland to the National Trust Plant a Tree campaign.

an eco-friendly Structural Insulated Panel System (SIPS) offers excellent thermal performance to ensure warmth throughout the year

Our exteriors use sustainably sourced timber

Mono-pitch colour-matched extended canopy roof structure

Our classrooms come with impact resistant internal cladding, ready for small children who are practically guaranteed to knock into them with the furniture! The plastered internal boards are so strong that they can support 50kg of weight on a single screw fitting – so you can hang whiteboards, TVs or shelves with confidence.

A-rated safety glass windows and doors come in tough and low maintenance aluminium frames, and we build these ourselves to ensure they meet our high standards.

Our roofing membrane comes with a 50-year life expectancy.

We construct to maximise natural light. Classrooms with plenty of natural light have been proven to improve pupils' results, so where possible classrooms should be designed to face the east and west to get the best of the daylight without the glare.

​​Our designs facilitate a flexible working space – one that can be adapted to changing teaching requirements, i.e. facilitating independent and 'quiet' individual learning time, as well as group work and wider class discussion times.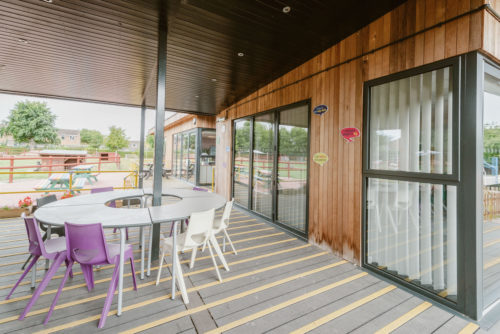 "Everyone wants to be in these new classrooms."
Liam Meenan, Assistant Headteacher
"It's essential that our classrooms be the best possible learning space for students with special educational needs."
– Liam Meenan, Assistant Headteacher

"We need primarily for our classrooms to be spacious, providing good space for 8-12 learners plus two teaching staff. It also needs to be non-threatening in its design. By that, I mean lots of natural light, having pleasant colors either inside the room, or outside, and Libby at Vertis works with us on our color scheme. So depending upon the needs of the class that might be an egg shell white board or it might be a pastel color for example. And then you need accessibility which is where Craig's knowledge is really helpful, making sure decking and rails are easy to use for every student.
"You want comfy, air conditioned rooms of course. Then in the summer you can open the bifold doors, that can be a very soothing, relaxing way to work. They can be fitted with blinds if needed. But the rooms are always positioned so you haven't got the sun coming directly in on students in the afternoon.
"Supporting those with SEN and learning disabilities is not an optional extra for us and Vertis have been vital in delivering what we need."
Flexible
Adaptable spaces made to fit your specific needs.

Accessible
Built with inclusion in mind so one's left out.

Natural
Showcasing the beauty, natural light, and calming fresh air of nature.

"In one word, working with Craig is easy. It's just easy – I couldn't praise him highly enough."
"He's very knowledgeable and wants to make sure that your project is as you want it. Before overseeing these projects because I would have been quite reluctant to get involved in new builds. However, working with Craig, it has been very enjoyable seeing the project develop. Also, if I have a question, Craig's got the answers straight away and puts me at ease. My knowledge of the buildings is very limited, but Craig will always make it easy for me.

"There's always snagging issues of course, and we work on those too and again it's simple. And if something can't be done, Craig will tell you as well. Or give you the cost implications for the different options. So, it's all very upfront and straightforward work. It's a pleasure working with Craig – I look forward to continuing this partnership as our site grows."

– Assistant Headteacher, Liam Meenan
Book a free consultation
We'll find a time that works for where we come and visit your site to hear about the challenges you're facing and what you're looking for next.

Define your project together
We'll propose a solution whether that's using a preset design or creating something completely new to meet your needs. Once we've agreed what you're looking for, we review timings, cost/finance and installation logistics.

Your building is scheduled in
We sign contracts and schedule the build. That's in the diary, and now the last thing to do is get building!